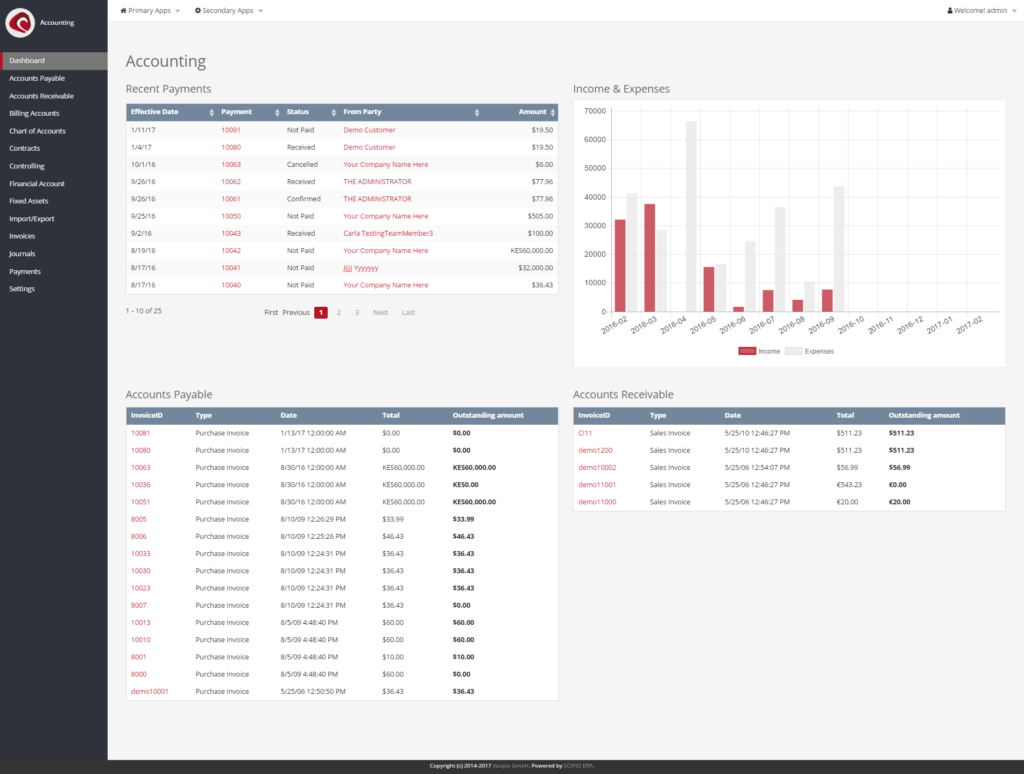 Accounting ("Accounting"), is a software application that records and processes accounting transactions within the system. The component gives access to various type of information, that are useful to manage accounts and generate reports. The application also contains functionality for controlling & contract management. All in all, the application contains:
Accounts Payable

Payment Groups
Invoices
Payments
Reports

Accounts Receivable

Payment Groups
Invoices
Payments
Reports

Billing Acocunt
Chart of Accounts

Account Navigation
Chart of accounts
Accounting Transactions

Contracts
Controlling

Budgets
Cost Centers

Financial Accounts
Fixed Assets (Asset Management)
Import Export

Export Accounting Transactions
Export Invoices

Invoices

Invoices
Commission Run
Commission Report

Journals

Accounting Transactions Overview
Transaction Totals
Balance Sheet
Comparative Balance Sheet
Cash Flow Statement
Comparative Cash Flow Statement
Income Statement
Comparative Income Statement
Sales Invoice by Product Category
Inventory Valuation
Trial Balance

Payments
Settings

Companies
Time Periods
Custom Time Periods
Foreign Exchange Rates
General Ledger Account Category
General Ledger Account Defaults
Invoice Item Types
Payment Gateway Config (Online Payments)
Payment Method Types
Rates
Tax Authorities
Vendors
Demo-data is available, which can be customized to represent your own company. Likewise, the you can create and editor your own accounts through the interface.
By default, the software is based on US GAAP accounting standards. Due to the current limitations, additional efforts are required in order to succesfully set up the software outside of the US. Additional modules, which add european accounting standards, such as the german SKR04, austrian SKR07 or the spanish GPC are currently in development and will be available shortly.